Display and sell Shopify products on WordPress.
ShopWP is a WordPress eCommerce plugin allowing creators, founders, and merchants to sell Shopify products on any WordPress site.
Join the 5000+ community of entrepreneurs currently using ShopWP to make money online!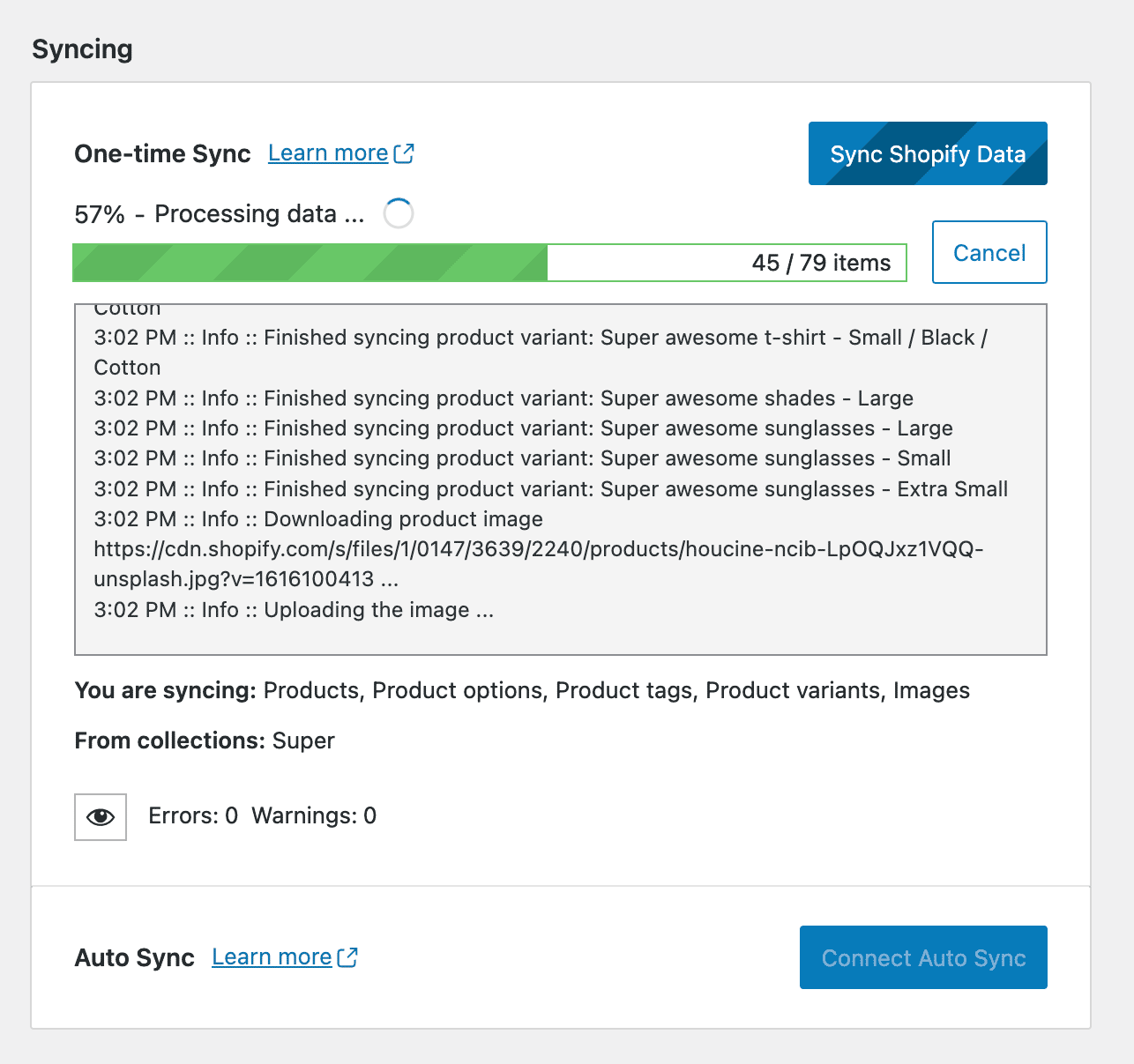 Sync your Shopify data directly into WordPress
✅
Images, metafields, collections—ShopWP can sync it all.
Use your Shopify data directly with other plugins such as Elementor, Yoast, etc. Because the data is synced as post meta values, the sky is the limit for the type of integrations you can create.
ShopWP allows you to sync products by collections, tags, vendors, or any combination. This allows you to sync only what you need—nothing more.
Buy buttons? No problem 👍
Display product variants as dropdowns or buttons. Enable one-time purchase or subscriptions. You can send customers directly to the Shopify checkout page, or add products to the built-in cart experience.
We have all the shortcodes and blocks you need to build a uniquely branded shopping experience on WordPress.
Easily create the layout you want for your products 🎩
Show just one product at a time or multiple products in a list. Link your customers to Shopify, or show products in a carousel instead. You'll have endless possibilities, built with beautiful product layouts. Your customers will feel confident when purchasing with ShopWP.
Over 5,000+ WordPress sites are currently using ShopWP. Here's what they have to say!
"I used ShopWP Pro to quickly set up a store for a client. My client and I preferred to keep the store on the site rather than linking out to Shopify, but we also didn't want to deal with setting up other e-commerce plugins. So this seemed like a good middle ground. It was super simple to set up and get going quickly. I'd recommend it to anyone."
"As a web agency owner, I deal with many plugins and their creators in the course of our project. ShopWP is a standout, not only for the impressive and ever growing list of features, but because Andrew is clearly very passionate about his product and his support and consistent updates reflect that. If you need to marry the WordPress and Shopify environments, I highly recommend you give this plugin a try."
"ShopWP is filling a much needed market gap for Shopify integration within WordPress. When we first became users of the plugin there were a few kinks to work out, though support showed great attention to detail and care with every inquiry. Simply put – a pleasure to work with. From a designer's perspective, the app is aesthetically pleasing and intuitive — a real beauty! We look forward to seeing what's next with this app!"
"We love to use ShopWP Pro; it allows us to use the power and the huge community of WordPress, plus the convenience of Shopify. In terms of payments we operate both, online and physical sales using then the Shopify card reader. Secondly, we are also present on Etsy, and both Etsy and Shopify can be sync to keep track of our inventory, and in case of simultaneous sales on different platforms, everything stays up to date. Both of these situation can't be solved by WooCommerce."
"After using this on a couple sites I continue to be impressed. I love working with WooCommerce but sometimes Shopify is a better fit for the project or you have a history of transactions and customers in an existing Shopify instance. This plugin makes the integration very intuitive and there are plenty of options to get your store looking just as you'd like through the plugin settings and using familiar WordPress theme customizations and template hierarchy."
"There's just not a lot out there that will seamlessly connect Shopify and WordPress, but this plugin does it well. Shopify has some limitations which affect how well it plays with WordPress, but the developer of ShopWP is extremely helpful and provides fantastic support. Highly recommend!"